Congratulates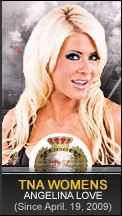 Angelina Love
TNA
New Womens
Champion
{Formerly Angel Williams}
First Ever
OSPW
Womens Champion
OSPW Would like to congratulate Angelina in her rise towards the top of the mountain. After she was released from her WWE development contract, she did not give up. She most recently can be found wrestling in the TNA Circuit!
When you first lay eyes on her, you would think that this gorgeous blonde might be a fashion or fitness model. Perhaps an actress. She could be any of those if she so desired. But lucky for us, this beautiful angel has actually chosen to pursue a career as a professional wrestler. Not content with strictly working as a valet, Angelina has taken to training hard and often. She's determined to show that a lady can be both beautiful and tough in the ring...and she's succeeding! Watch Angelina Love as she battles her way across Canadian and U.S. rings on her way to the top.
Angelina Love's
Profile
"Height: 5' 6"
"Weight: 118
"Hair: Bleach Blonde
"Eyes: Grey
"Hometown: Toronto, Ontario (CAN)
"Age: 26
"Years In Wrestling: 7
"How It Started"
I had always been watching wrestling ever since I was a young girl. At 18, I was chatting with a friend who was doing ring announcing for some independent promotions in the States. I asked him if he knew of any promotions in Ontario, because I was clueless at that point. He emailed me some website links and phone numbers, and I made my contacts from there.
"Titles Held"
First Ever
"OSPW Women's Champion"
Currently
TNA / Women's
Knockout Champion
VISIT