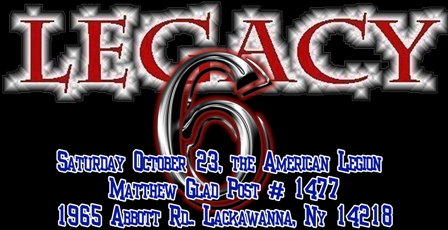 Results
Pre Show Action
Well fans, I'm back with the full Legacy 6 show report, filling in for David James. So, here's the newest Raige report&ldots;
Legacy 6 started out w/a bang when Dalton Castle interrupted masked wrestler Venomous to announce that he is the next big thing to hit the OSPW ring. OSPW fans simply wanted him to shut his mouth when Dalton kept telling Venomous to leave the ring before brutally attacking him (not a scheduled match I might add), Dalton left Venomous laying on the mat when all of a sudden former WWE Star Colin Delaney came up on the jumbo screen via satellite from Pennsylvania to challenge Dalton to a match at Exodus, December 4th at Big Tree Fire Hall (4307 South Park Ave, Buffalo, NY, 14219). Dalton accepted the challenge. Colin has appeared at OSPW before and has never failed to entertain the crowd. You definitely don't want to miss this one!
Match # 1
T-Rex Express delivers a beating to A Nasty Sensation
Our first match placed the T-Rex Express (Rex Atkins & Troy Buchanon) against the team of A Nasty Sensation (Sensational David Evans & Nasty Nick Nice)w/Papa Terry Kadillac in their corner. Rex has turned his back on the Talent Elite group and Papa Terry Kadillac has taken charge. Troy Buchanon immediately riled up the fans with words of unkindness with Rex adding fuel to the fire. The match placed veteran experience on the T-Rex Express side vs the young, hungry, and eager side in A Nasty Sensation. The match appeared to be very one-sided in the beginning with Troy & Rex using several dirty tactics to keep Sensational David Evans from getting to his corner to make the tag so desperately needed. Once tagged in Nasty Nick Nice entered the ring on fire. Once again, Troy & Rex regained momentum until David Evans regained his strength outside the ring, Papa Terry attempted to distract the ref once Nick was re-tagged into the match, only to backfire when Troy Buchanon hit Nick w/a low blow while the ref was unaware, once the ref had his head back in the match, Troy was able to apply his finisher, an impaler style DDT to Nasty Nick Nice for the win.
Match # 2
Ryot go's over Chris west in singles match
Second Match We saw Mr. Wrestling Chris West put on a great fight as he
went head to head with The Unholy monster Ryot, who in the end proved to
be just a bit too much for West.
Match # 3
Mikey Everynight beats Da Latin Soldier by DQ
Title stolen by Damien Lucas!
Third match of the evening saw OSPW fan-favorite Mikey Everynight (accompanied by OSPW Women's Champion Jesse Belle) face-off against Under World Cartel Member Da Latin Soldier (accompanied by Manager Mr. Perez) for the OSPW Junior Heavyweight TV Championship. Once the bell rang, Mr. Perez kept antagonizing the referee to no end causing the ref to send Mr. Perez back to the dressing room. OSPW Jr Heavyweight TV Champ Da Latin Soldier didn't seem too upset and locked up with Mikey Everynight. After the first tie-up, Da Latin Soldier wasted no time in slapping Mikey across the face, more than once. Mikey Everynight took it in stride and focused on becoming the next OSPW Jr. Heavyweight TV Champ. At the last OSPW event Mikey Everynight defeated Damien Lucas who came out from backstage and stood ringside to watch the match. Da Latin Soldier and Mikey applied fast-paced and solid moves on one another. Mikey was thrown out of the ring when Damien Lucas grabbed hold of him and applied his finisher to Mikey on the hard floor which automatically disqualified Da Latin Soldier for outside interference. Result, Da Latin Soldier retains the OSPW Jr Heavyweight TV Championship since the title cannot be lost by disqualification. AFTER THE MATCH: Damien Lucas decided to grab the OSPW Jr Heavyweight TV title belt and bring it into the ring to hand it to Da Latin Soldier when instead he clobbered him in the head with it and then literally stole the belt and headed back to the dressing room.
Match # 4
Nick Vickers-Gabriel Soul and Billy Foxx beat
TSK- Al Jihad and Jeremiah Bradley in six man tag match Jihad has falling out with partners.
Fourth match saw TSK, Al Jihad, and Jeremiah Bradley go up against Nick Vickers, Gabriel Soul, & Billy Foxx in a 6-man tag match. Action in this match started out methodical and difficult since there were so many different styles of talent placed into this match. Gabriel Soul still fresh in OSPW had an impressive start with hard-hitting action on TSK, Jihad, and Jeremiah Bradley. TSK was pre-occupied with fans chanting USA and having heavy verbal confrontation with fans outside of the ring, it appeared when he was tagged back in he took out his frustrations on Nick Vickers and Gabriel Soul. Vickers always a crowd-pleaser did well in facing off against all opponents. Former OSPW World Champion Billy Foxx entered the ring with his classic aerial maneuvers and techniques almost gaining the victory until a small melee ensued. Jihad blind-tagged himself into the ring by tapping Jeremiah Bradley on the back. Gabriel Soul was the legal opponent in the ring, while Jeremiah and TSK argued with Jihad, Gabriel snuck up and planted his "Fall From Heaven" finisher on Jihad for the win. Followed by TSK and Bradley delivering a beat down on Jihad, Vickers, Soul and Foxx made the save.
Match # 5
Kwan Chang beats Papa Kadillac - Lucas - Steve Kruz - Dain the Pain and Anthony Fiasco
in a Six Man Scramble Match
Fifth match saw the infamous "Mr. One-Night Stand" Steve Kruz return to OSPW to be entered into a Texas Tornado Style Match involving "The Asian Nightmare" Kwan Chang, Papa Terry Kadillac, Dain The Pain, and Anthony Fiasco (making his OSPW Debut). Once this bell was rung it was all-for-one, one-for-all with each man not allowing the other to get a pinfall on an opponent. Kwan Chang always persistent made sure when he was standing in his corner no one was going to get a pin as long as he was around by constantly re-entering the ring to break up any pinfall attempt. Kruz and Kwan seemed to have a constant struggle with each other throughout the match. Dain The Pain, the smaller but definitely not lesser, opponent proved his worth in this match by constantly being aware of his surroundings and fighting to the death. Dain saw a huge opening in the window of opportunity after Papa Terry Kadillac landed a suicide dive onto all other opponents outside the ring, when Dain went to the top rope and flew "Snuka" style onto all opponents on the floor outside the ring. Once everyone was back in the ring Kwan Chang got his hands on Dain The Pain to plant his Pump-handle Slam into a Falcon Arrow finisher on Dain The Pain for the win. Naturally, in attendance and commentating Kwan's Manager Jaz Miles had to grab the microphone and gloat.
Match # 6
Deacon and Bishop of The Sons of Thunder beat
UWC Members Titus Smith and Bacardi Kid
in Tag Team Title Match!
Sixth match saw UnderWorld Cartel Member OSPW New York Champion Titus Smith and his tag-team partner The Bacardi Kid (accompanied by Mr. Perez) face-off against the current OSPW World Tag-Team Champions The Sons of Thunder (Deacon and Bishop) with Manager Thunder in their corner. The 3-time OSPW Tag-Team Champions Sons of Thunder entered the ring with striking new attire while on the other side Titus Smith and Bacardi Kid were getting frustrated with the fans verbalism's before the bell even rang. Once the match started the action was powerful and hard-hitting with all men landing hard punches, kicks, and powerhouse moves. This turned out to be a truly classic old school style tag match for the ages and one of my favorite tag matches of all time in OSPW history. In the end, The Sons bested the Cartel as Deacon was able to apply his patented submission move, Daddy's Discipline, on the Bacardi Kid with Bishop landing a vicious leg-drop to the back of the head of Bacardi Kid to help Deacon get the pinfall. Your winners and still OSPW World Heavyweight Tag Team champs, The Sons of Thunder!
After the match, OSPW was interrupted by the UnderWorld Cartel w/OSPW World Champion Tyger Smith grabbing the microphone to notify the audience that if anyone in attendance was squeamish to leave the building since he was going to do things to his opponent that were not going to be pretty (in so many words). The audience shouted "We want Trip" which immediately lit a fire in Tyger Smith telling the audience that Trip wasn't there so they were not going to get their way. As Tyger became more rattled Trip entered the ring to plant a huge superkick to the face of Titus Smith. Trip then ran to the commentators table to tell Tyger his UnderWorld Cartel Brother Titus just received his version of a hit-n-run. Tyger was irate. Tyger told Trip he lost to him last show so to quit dreaming of a rematch. All of a sudden Trip's former foe and now OSPW Commissioner Danny Magick whispered in Trip's ear, after that Trip placed a challenge to Tyger Smith stating he will face any member of the UnderWorld Cartel to get another shot at Tyger Smith. Trip then placed it all on the line stating if he loses he will leave OSPW! I'm not sure if Danny Magick whispered this idea into Trip's ear in his best interest or to sabotage him. Tyger seemed ecstatic with Trip's request and gladly accepted by telling Trip at Exodus, Dec. 4th, at Big Tree Fire Hall Trip will be facing none other than JC Money! This is going to be a great match!
Match # 7
Trip beats Kriptic Keegan in hard fought match.
Match 7 saw Former OSPW Jr Heavyweight Champion Kriptic Keegan square-off against OSPW's Emperor of Old School Trip (accompanied by Mirage). Kriptic started the match by sizing Trip up going into a lockup. Both men used tests of strength and skill to try to outsmart one another. It almost seemed as if both of them did their homework on each other when nearing the end of the match Trip & Keegan kept attempting to apply several kicking and finishing maneuvers only to have them reversed on one another until in the end Trip got the best of Kriptic when he applied his powerbomb into a Back-Breaker finisher on Kriptic to get the win.
Match # 8
Nikita and Dee Licious beat Jena Mya and Jesse Belle in tag action.
Match 8 we witnessed a Women's Tag-Team Match with newcomer to OSPW, Nikita (proudly wearing a Russian flag) alongside her tag-team partner Dee Licious (accompanied by their manager Jaz Miles) against the team of Jena Mya and OSPW Women's Champion Jesse Belle (accompanied by Mikey Everynight). I've seen a lot of women's matches in OSPW from the Angel Williams days right up to the long fought battle of Jesse Belle facing Kaitlin Diamond repeatedly until she won the OSPW Women's Title that she holds today. I have to say this was my favorite women's match I've ever witnessed in OSPW. The girls wasted no time in going after each other with a vengeance. Jena Mya started off the action facing Nikita in her OSPW debut. Nikita proved she can stand tall in the women's division with dastardly techniques and well-executed moves. Her partner Dee Licious had no problem getting verbal with the fans while she was beating on Jena Mya. I have to say one thing about the women in wrestler's in OSPW, don't let them fool you, these girls mean business. Jesse Belle entered the ring after a quick tag. At one point, the referee was a bit confused when Damien Lucas came back out from the locker room to taunt Mikey Everynight once again. All four girls entered the ring, Jesse Belle and Jena Mya applied their finishing maneuvers to Nikita and Dee Licious. Jesse Belle pinned Dee Licious but she wasn't the legal woman in the ring, Jena pinned Nikita who was legal but Jena wasn't! Damien pulled Jena out of the ring causing a scuffle with Mikey Everynight outside the ring when The UnderWorld Cartel came out after Lucas in an attempt to get the stolen OSPW Jr Heavyweight TV title belt back. Damien was chased outside the building. While this happened Jesse Belle made the cover on Nikita but she recovered and kicked out of the pinfall attempt. Nikita planted a fast DDT on Jesse Belle for the win. It looked as if Jesse Belle, Mikey Everynight and Jena Mya might have been fighting after the match!
Match # 9
The Main Event
The OSPW Title Changes hands not once but twice in the same night as Super Beast beats Tyger Smith in The Fighters Pride
Lumberjack Match, only to have Tyger invoke his rematch clause and win the Title back 30 seconds later....
Your New and First 3x OSPW World Champion
Tyger Smith!
Match 9 we saw The Main Event Lumberjack Match w/weapon stipulation (coin toss winner got to use first weapon of choice)– OSPW World Champion Tyger Smith vs Superbeast. The Lumberjacks made their entrance and the match was underway. Tyger wasted no time in attacking Beast from behind as soon as the bell rang. This match was not your normal wrestling endeavor. Tyger warned the fans earlier in the night that if they were squeamish to walk out the door. Beast was the first to bring a weapon into the ring in the way of a steel chair which Tyger got hold of and put to good use immediately. Tyger pulled out his weapon of choice, a staple gun, when he did the unthinkable and stapled Superbeast right in the jewels&ldots;yes, those jewels. After that Tyger thought he'd get creative and pulled out a power drill that the UnderWorld Cartel members plugged into the wall w/an extension cord, Smith attempted to push the hot drill bit into the head of Superbeast when Beast blocked the move with the steel chair. Tyger out of frustration tried to drill through it when Beast's Lumberjacks unplugged it. Throughout the match the top of Beast's head was busted open from a Guitar Hero guitar, a keyboard, and an infamous Russian sickle that Tyger was not afraid to use to open up the wound on Beast's head. As Tyger and Beast were thrown out of the ring throughout the match the Lumberjacks wasted no time in beating on either opponent where necessary. The Lumberjacks let it get the better of them when they all decided to go after each other and fight their way out of the building leaving the two contenders alone in the ring. Tyger's valet Angel got onto the ring apron in a failed attempt to distract Superbeast when Tyger charged at him knocking Angel hard off of the ring apron. This gave Beast the opportunity to roll Tyger up in a pinfall to become the NEW OSPW WORLD CHAMPION!!!
AFTER THE BELL: The UnderWorld Cartel entered the ring brutally beating on a bloodied and battered SuperBeast as the ring announcer announced the new champion. While Beast was knocked unconscious in the ring UnderWorld Cartel Manager Mr. Perez informed Superbeast the contract had a rematch clause good anytime and told the ref to ring the bell as Tyger Smith pinned Beast once again to once again officially become the OSPW World Champion. Unfortunately, due to Tyger Smith's poor sportsmanship Beast is now the only man to officially have the shortest heavyweight title reign in OSPW history.
Commentators Jaz Miles, The John, and OSPW Commissioner Danny Magick closed the show by
telling the fans to have a safe and Happy Halloween.
Until next time&ldots;Dec 4th 2010 @ OSPW's Exodus event.
This has been T. Raige filling in for David James with the show report!