The Champions Retain The Gold!!!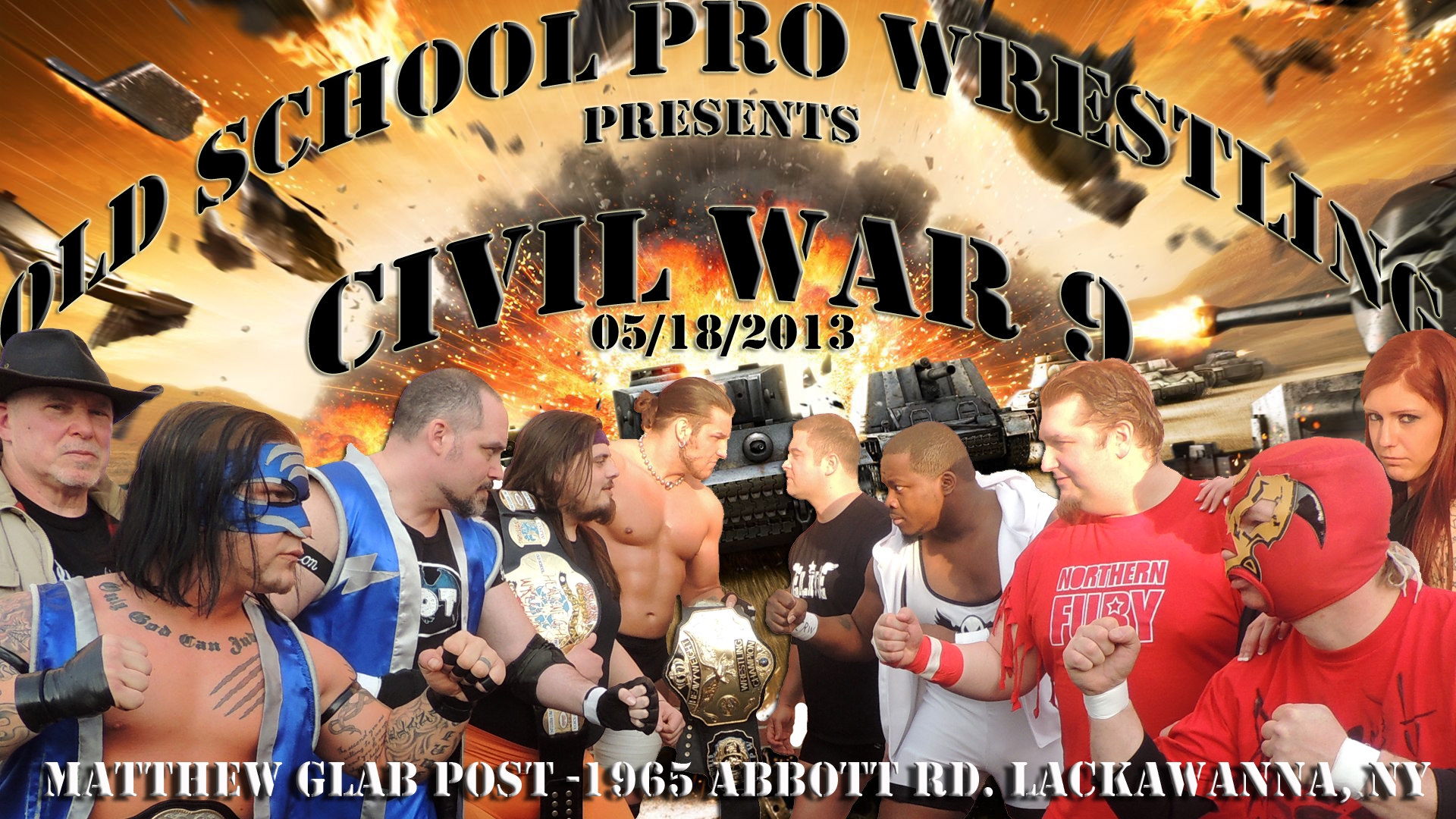 Jay Flyer vs Lexx Anvil vs Anarchy
First up on this night at OSPW's Civil War 9, we had a 3-way dance between Jay Flyer with Mirage, 2013 Emperor of Old School Lexx Anvil with Thunder and new comer to OSPW Anarchy with Trip. This match gave us a great look at some of the up and coming young talent in OSPW as it started with some fantastic back and forth wrestling actin by all three men. The entire match flowed on in this manner as Lexx Anvil, Anarchy and Jay Flyer proved to be the real deal with some well placed high impact wrestling. It would be Lexx Anvil who would score the win over Jay Flyer. Your winner...Emperor Lexx Anvil!!!
Terry Kadillac vs Tommy Mandrake
Match two had a different feel to it as both Papa Terry Kadillac and Tommy Mandrake are a couple of characters, if you have seen either of them than you would understand what I mean. Kadillac and Mandrake entertained us all with their old school style as Kadillac jaw jacked the crowd while working over Mandrake's leg in hope to put his figure four cylinder leg lock on Tommy Mandrake, who attempted to fight back as the fans cheered his name. But it looked as if his leg might have had enough and just then he turned it around on Kadillac as he fired up, scored the victory over Kadillac. Your winner...Tommy Mandrake!!!
#1 Contender's 6-man Elimination Shackles match
Mcgee vs Kwan vs Venomous vs Titus vs Trip vs Brian Emanon
Next up we had a big one as it was to be a 6-man Elimination Shackles match to become the #1 contender to the OSPW Heavy weight title between Mike McGee--Kwan Chang (once again Their manager Jaz Miles was M.I.A. word is he was been seeking out new talent to add to M.E.) --Venomous--Titus Smith--Brian Emanon--Trip. This match started with Trip and Venomous, all others cuffed at ring side to be released randomly as the match went on. Trip and Venomous went back and forth with some fast paced action, both men looking at the top of their game. Next man in was Kwan Chang and he came in like a house of fire! Next in would be Brian Emanon who came in loaded for bear as he went to work. Next in as the action now went from in the ring to scattered around ring side would be Titus Smith who hit the ring and brought the pain with him. The final man to enter the match, Mike McGee. As the action in this match heated up, Venomous would be the first to be eliminated by Trip, next to go would be Brian Emanon eliminated by the team effort of Kwan Chang and Mike McGee. As this match came down to the final four men, it sure seemed to be taking it's tole on each one. The ref had his hands full to say the least. All four men left, pulled out their best moves to walk out the winner as Mike McGee eliminated Trip, now leaving Kwan, Titus and Mcgee to fight it out. But the game was not in Titus Smith's favor as Kwan Chang and McGee attempted to take out Smith with a Kendo stick it back fired and McGee hit Chang. Smith covered Chang and now it was Titus and McGee. Just then Trip slid back in hitting McGee with a super kick and Titus Smith covered for the victory. Your winner...Titus Smith!!!
Trip and McGee had words that brought out Commissioner Bishop to the ring and at Defining Leverage 4, it will be Trip vs McGee in a "I quit" match!
Jr TV title
Eric Emanon vs Mikey Everynite
Kicking off the second half of the night we had an OSPW Jr TV title match between challenger Eric Emanon and Champion Mikey Everynite with manager Lanny Repman. This match had a big time feel to it as both men fought hard, giving each other and us everything they had to give in and out of the ring. I felt electricity in the air as these two warriors thrilled us all! Neither man giving an inch as this was any mans match to win. The crowd was clearly behind Mikey Everynite, but Eric Emanon did not let this shake him as he had done in times past. Many times over it looked as if this one was finished but somehow, someway both men found a way to press on with a never say die attitude. Just like that Eric Emanon caught Everynite and locked him in a submission hold, the Champ held on best he could and even slid his foot under the bottom rope before tapping out. Something the ref seemed to miss as he called for the bell. The winner and new OSPW Jr TV Champion...Eric Emanon!!! In my opinion this match could easily find its way into contention for match of the year.
NY Title Match
Billy Foxx vs Chris West
This next match was between Billy Foxx with Mirage vs Chris West with Lanny Repman for the OSPW NY title. As this match began it was clear the crowd loved West and hated Foxx. It was also clear that West was too much for Foxx to take on straight up. As time and time again West put Foxx on his back looking up at the lights, it was only after Foxx clipped Wests' knee that he found himself some breathing room and maybe a way to win. But no, this attack was short lived as big old Chris West had a whole lot of heart and even more fight still in him. So Billy Foxx along with Mirage attempted to cheat the OSPW NY champ with dirty tactics in the form of a steel chair that back fired and Foxx felt the blast that lead to the 1,2,3 for West!!! Your winner and still OSPW NY Champion Chris West!!! Chris West suffered a beat down as he fell victim to the House of "M".
4 on 4 Civil War Elimination Tag--All titles on the line match
Team Thunder vs Team Mirage
Now for your Main Event! A 4 on 4 Civil War elimination tag match between Team Thunder and Team Mirage for all the gold. On the line would be the OSPW TV title held by Nasty Nick Nice, the Tag titles held by The Fallen, Deacon and Shadokat, and the World Heavyweight title held by Ryot. The challenger for each would be Gabriel Soul, Diablos Horde; Big Vigo and Damien Lucas and Cassius Cutcher who stated he did not need his team mates to win this match. This one started a little rough as Nasty Nick Nice and Damien Lucas engaged each other in a bit of unconventional style war fare as other members of the house of "M" attempted to take out team Thunder on the outside of the ring. While all this went down Cassius Cutcher sat at ring side in a folding chair. The action in this one picked up big time as Gabriel Soul went to work on Nasty Nick Nice only to have his victory stolen by his own team mate as Cutcher blind tagged in and eliminated Nick. This brought in Ryot and these two big men picked each other a part as this match became a 4 on 3. At this point Cutcher realized he needed help from his team, but they left him hanging and this cost him as Ryot put him out. Now with everything evened up 3 on 3, the fight raged on but this would be short lived as Cutcher would not stay away as he distracted Ryot just enough for Gabriel Soul to take Ryot out. This lead to The Fallen against the house of "M", 3 on 2. As Deacon and Soul attempted to take each other out with a fantastic display of martial arts that found Soul on the loosing end and out as The Fallen beat him down with some brilliant double team tag action. Now 2 on 2, The Fallen against The Horde. Shadokat and Lucas went at each other hard and Shadokat was sent to the back after what looked to be a fast count and a shoulder up. Now the titles were in jeopardy as Deacon was now believed to be alone against Lucas and Vigo, but he fought on as we have seen him do so many times, taking Lucas out first and then in a very close, hard fought battle against Vigo and a few close calls. With a fast count or two by ref Daniel, it semed as if the ref may have been a bit one sided in the house of "M`s" favor? OSPW Commissioner Bishop stormed his way to the ring, replacing the biased ref. As this was happening Shadokat re-appeared out of the shadows long enough for Deacon and Shadokat to catch Vigo off guard with a double team pinning combo that delivered big! Your winner`s and still Champions, Nasty Nick Nice, Ryot and The Fallen!
This has been the full show report by David James.
See you July 13th for OSPW's Defining Leverage 4!!
Copyright © 20013 - 2017 OSPW Inc. Old School Pro Wrestling. All Rights Reserved